BlueStar dealers

Attract More Customers
By providing vehicle condition transparency.

Build Trust
With your customers through third-party validation.

STRENGTHEN MARGINS
By competing on quality, not just price.

OPTIMIZE RECONDITIONING COSTS
By removing conflicts of interest.
BlueStar dealers sell more and earn more
BlueStar dealers increased annual sales by almost 50% in 2019 on average.

Shane Paoli
Used Car Sales Manager
Subaru Dealership
"I believe BlueStar helps us provide full transparency and build trust with our customers. They also give us added confidence that we are selling them good quality cars. Sales are up and our customers are seeing very few (if any) issues after purchasing their pre-owned vehicles."

Justin Hunsaker
General Service Manager
Volkswagen Dealership
"By utilizing BlueStar, we have been able to streamline our reconditioning process, reduce after sale issues, and build confidence with customers. I would highly recommend BlueStar to anyone wishing to create transparency for customers and expedite time to front line in their used car department."

Joe Watson
General Manager
Independent Dealership
"We partnered with BlueStar to streamline our process. We like it being a 3rd party inspection so that customers know we are providing a good product for them."
How BlueStar Works
50-CATEGORY, 200+ POINT INSPECTION PERFORMED BY BLUESTAR
DEALER REVIEWS MECHANICAL CONDITION REPORT & RECONDITIONS VEHICLE
BLUESTAR UPDATES REPORT POST-RECONDITIONING
REPORT PUBLISHED ONLINE FROM DEALER DASHBOARD
How BlueStar helps you sell
Customers often ask the sales rep for the story on a car they want to purchase. Most of the time, though, they have no idea what the story is. They can look up the CarFax, but it's not much of a story:
It wasn't in an accident.
It wasn't in a flood.
It's had two owners.
With a BlueStar in hand, the sales rep can tell the customer what they really want to know:
The vehicle drove nicely on the road test.
The brakes have more than 50% life left.
The undercarriage looks great and is free of major rust.
There are no active oil leaks.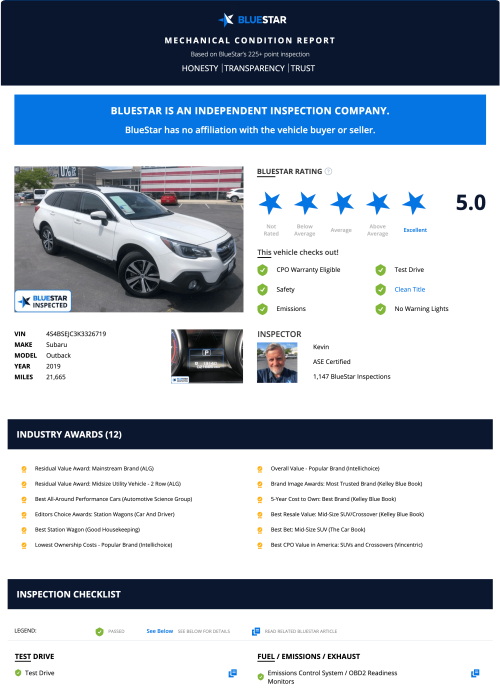 View Sample Report
Call us today at
801-903-1701 to learn more about how BlueStar can help your dealership!

---
Bluestar is currently available in Texas, Utah, and Idaho and is expanding nationwide. Over 30,000 inspections completed to date!