BlueStar is an independent inspection company.
BlueStar has no affiliation with the vehicle buyer or seller.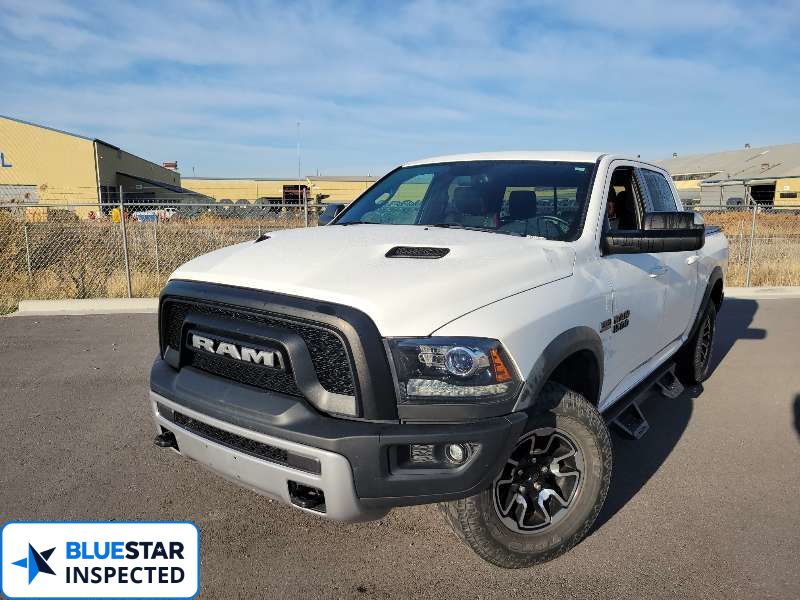 Blue

Star checked this vehicle out!
VIN:

1C6RR7YT6GS327920

MAKE

Ram

MODEL

Ram Pickup 1500

YEAR

2016

MILES

52,381
Inspector

Bob H
4,066 BlueStar Inspections
Industry Awards (9)
Top 10 Trucks (Autobytel)

Editors Choice Awards: Pickup Trucks (Car And Driver)

Active Lifestyle Vehicle of the Year: Best Value Off-Road (Carspondent)

Best Buy: Large Pickup Trucks (Consumer Guide Automotive)

Top Recommended Trucks (Edmunds)

Automotive Excellence Award: Best Truck (Popular Mechanics)

Full-Size Pickup Truck of Texas (Texas Auto Writers Association)

Best Trucks for the Money (US News)

Pickup Truck of the Year (Four Wheeler Network)
Items replaced or repaired by the dealer
Replaced
Driver front tire replaced.
Passenger front tire replaced.
Driver rear tire replaced.
Passenger rear tire replaced.
Engine air filter replaced.
Cabin air filter replaced.
Engine oil / filter replaced.
Brake fluid replaced.
Inspection Checklist
Test

Drive
Test Drive
Safe

ty / Vision
Warning Lights / Messages (TPMS, SES, ABS, SIRS, other)

Safety Systems / Horn(s) / Airbags / Seat Belts

Glass / Washers / Wiper Blades

Exterior Lighting / Lights
Fuel

/ Emissions / Exhaust
Emissions Control System / OBD2 Readiness Monitors

Engine Air Filter / Air Intake / Vacuum Systems

Fuel Filler / Cap

Fuel System / Fuel Filter

Exhaust System / Muffler / Catalytic Converter
HVAC

/ Cooling
Heater / Air Conditioning / Blower Fan

Cooling System / Radiator / Hoses

Water Pump

Electric Cooling Fan / Fan Clutch
Whee

ls / Tires / Brakes
Parking Brake System

Spare Tire / Jack / Lug Wrench / Hardware

Tire Wear / Condition Front

Tire Wear / Condition Rear

Tire Rotation

Brake System / Hoses / Lines Front

Brake System / Hoses / Lines Rear
Stee

ring / Suspension
Wheel Bearings Front / Rear

Shocks / Struts / Suspension System Front

Shocks / Struts / Suspension System Rear

Ball Joints / Control Arms Upper / Lower

Steering Linkage / Tie-Rods

Stabilizer Bar / Links / Bushings

Power Steering System / Steering Gear
Powe

rtrain
Drivetrain / Engine / Transmission / Clutch Operation

Transmission / Motor Mounts

Universal Joints Axle / Driveshaft

CV Axles / Joints / Boots Inner / Outer

AWD / 4x4 / Transfer Case Operation

Differential Operation
Igni

tion / Electrical
Battery / Cables Condition

Accessory Drive / Serpentine Belt

Starting System

Spark Plugs / Ignition System
Body

/ Frame / Exterior / Interior
Dash / Displays / Entertainment / Navigation / Security & Info Systems

Intelligent / Smart Systems

Interior lighting / Courtesy Lights

Glove Box / Storage Compartment / Cup Holders

Interior / Power Accessories

Door(s) / Gate / Hood / Hatch / Handles & Latches

Hood / Gate / Hatch / Trunk / Deck Lid Support

Body / Body Component / Weatherstrip / Moldings

Trunk / Rear Compartment

Engine Compartment

Frame / Undercarriage

Environmental Damage
Flui

d Leaks / Level / Condition
Coolant Level / Condition / Protection / PH

Engine Oil Level / Condition

Brake Fluid Level / Condition

Clutch Fluid Level / Condition

Power Steering Fluid Level / Condition

Transmission Fluid Level / Condition

Fluid Leaks

Front Differential Fluid Level / Condition

Rear Differential Fluid Level / Condition

Transfer Case Fluid Level / Condition
TESTS AND MEASUREMENTS
Fluid

s
Engine Oil
Transmission Fluid
Coolant
Brake Fluid
Transfer Case Fluid
Front Differential Fluid
Rear Differential Fluid
Driver Front
Replacement not measured

Replaced by seller
7/32 inch

Acceptable
Driver Rear
Replacement not measured

Replaced by seller
8/32 inch

Acceptable
Passenger Front
Replacement not measured

Replaced by seller
7/32 inch

Acceptable
Passenger Rear
Replacement not measured

Replaced by seller
8/32 inch

Acceptable
INSPECTOR COMMENTS AND PHOTOS
Passed

Safety

Emissions

Other

Additional Info