BlueStar is an independent inspection company.
BlueStar has no affiliation with the vehicle buyer or seller.
Blue

Star checked this vehicle out!
VIN

WBSNB93536B583262

MAKE

BMW

MODEL

M5

YEAR

2006

MILES

64,634
Inspector

Kevin
ASE Certified
1,193 BlueStar Inspections
Industry Awards (5)
Residual Value Award: Luxury Brand (ALG)

All-Star (Automobile Magazine)

Highest Retained Value (Intellichoice)

Best Resale Value: Brand (Kelley Blue Book)

World Performance Car of the Year Finalist: Top 3 (World Car of the Year)
TESTS AND MEASUREMENTS
Fluid

s
Engine Oil
Power Steering Fluid
Coolant
Brake Fluid
Rear Differential Fluid
INSPECTOR COMMENTS AND PHOTOS
Passed

Safety

Emissions

Other

Additional Info
Whee

ls / Tires / Brakes
Fuel

/ Emissions / Exhaust
Igni

tion / Electrical
Othe

r

Vehicle appears free from active fluid leaks
Positive vehicle appearance / condition observations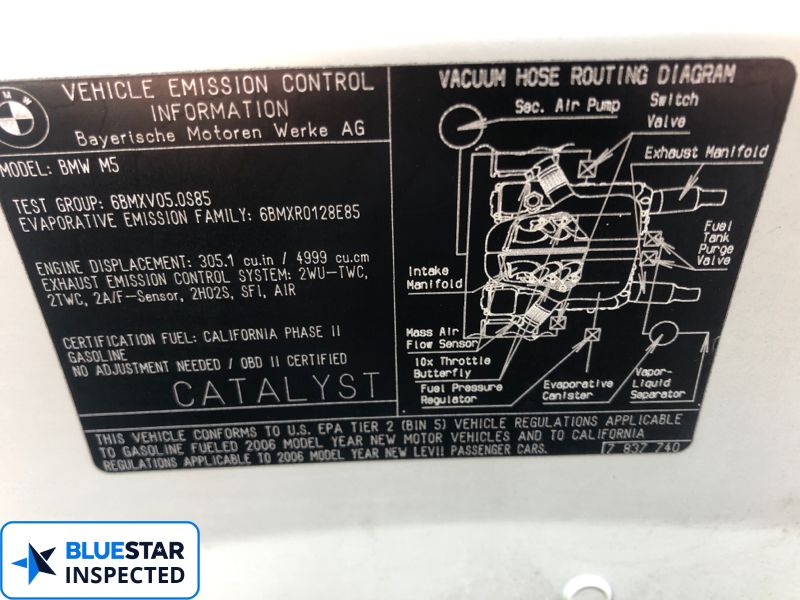 For the age and mileage this vehicle appears in excellent condition.