Mechanical Condition Report
Based on BlueStar's 225+ point inspection
HONESTY
TRANSPARENCY
TRUST
BlueStar is an independent inspection company.
BlueStar has no affiliation with the vehicle buyer or seller.
Blue

Star checked this vehicle out!
VIN:

3N1AB7AP0HY231441

MAKE

Nissan

MODEL

Sentra

YEAR

2017

MILES

106,112
Inspector
Laura M
4,079 BlueStar Inspections
Industry Awards (3)
Best Environmental Performance Brand (Automotive Science Group)

Best Cars for First-Time Drivers (Cars.com)

Best Vehicles By Class: Midsize Cars (GreenerCars.org)
Inspection Checklist
Passed

See Details

Detailed Explanation of Failing Observation

Read related BlueStar article
TESTS AND MEASUREMENTS
Fluid

s
Engine Oil
Transmission Fluid
Not Inspected
Not Inspected
Coolant
Brake Fluid
Washer Fluid
INSPECTOR COMMENTS AND PHOTOS
Passed

Safety

Emissions

Other

Additional Info
Safe

ty / Vision
Fuel

/ Emissions / Exhaust
Emissions monitor(s) not ready at time of inspection. This does not necessarily mean there is an issue. Vehicle may simply need to complete a drive cycle.
(CAT (catalyst), Evap (evaporative) , FUE (fuel system) , O2S (oxgen sensor))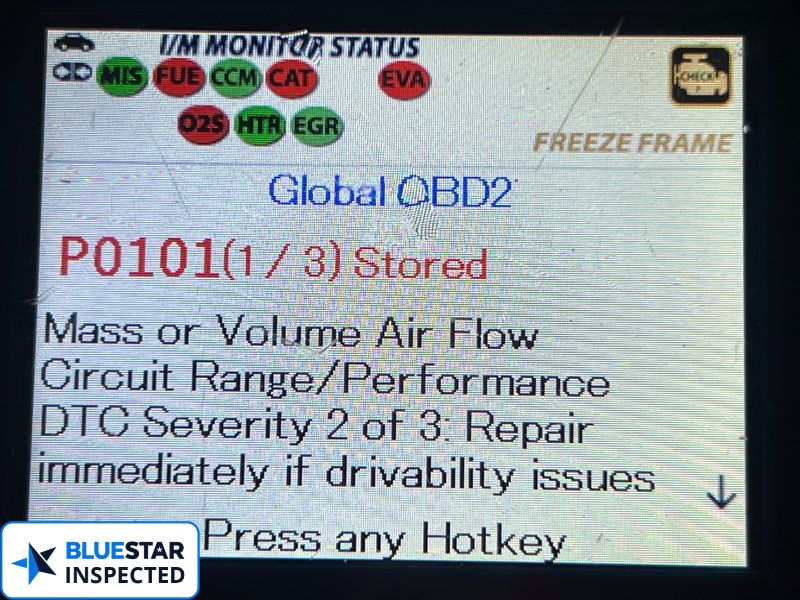 Check engine light is currently on with data trouble code(s) present in vehicle ECM.
(P0101, )
Whee

ls / Tires / Brakes
Powe

rtrain
Engine has abnormal performance
(Hesitation, On acceleration, Low speeds. )
Igni

tion / Electrical
Body

/ Frame / Exterior / Interior
Othe

r

Informational observations noted at time of inspection
Vehicle has surpassed manufacturer's recommended service life for spark plugs. Advise maintenance record check. There is no rough running condition present at time of inspection.
BlueStar inspector unable to inspect transmission fluid on this vehicle as a result of a sealed system with no dipstick but due to vehicle age and/or mileage advises accessing fluid to evaluate condition.