Mechanical Condition Report
Based on BlueStar's 225+ point inspection
HONESTY
TRANSPARENCY
TRUST
BlueStar is an independent inspection company.
BlueStar has no affiliation with the vehicle buyer or seller.
VIN:

1C6RR7GT8DS544964

MAKE

Ram

MODEL

1500

YEAR

2013

MILES

105,282
Inspector
Laura M
4,491 BlueStar Inspections
Industry Awards (19)
Most Ideal Popular Brand (Auto Pacific)

Pickup Truck of the Year (Autobytel)

All-Star (Automobile Magazine)

Best of the Year: Nominee (Cars.com)

Best Bet: Pickup Trucks (Cars.com)

Best Buy (Consumer Guide Automotive)

Top 10 Least Expensive Trucks (Edmunds)

Top 10 Most Fuel-Efficient Trucks (Edmunds)

Top Recommended Trucks (Edmunds)

Automotive Performance, Execution and Layout (APEAL) Study: Top Models in Segment (J.D. Power and Associates)

Truck of the Year (Motor Trend)

Driver's Choice Award: Best Pickup Truck (MotorWeek)

North American Truck of the Year (North American Car of the Year)

Automotive Excellence Awards: Hauling (Popular Mechanics)

Full-Size Pickup Truck of Texas (Texas Auto Writers Association)

Truck Line of Texas (Texas Auto Writers Association)

Truck of Texas (Texas Auto Writers Association)

Best Car to Buy - Nominee (The Car Connection)

Best Full Size Pickup Trucks (US News)
Inspection Checklist
Passed

See Details

Detailed Explanation of Failing Observation

Read related BlueStar article
TESTS AND MEASUREMENTS
Fluid

s
Engine Oil
Transmission Fluid
Coolant
Brake Fluid
Washer Fluid
Transfer Case Fluid
Front Differential Fluid
Rear Differential Fluid
INSPECTOR COMMENTS AND PHOTOS
Passed

Safety

Emissions

Other

Additional Info
Test

Drive
Safe

ty / Vision
Fuel

/ Emissions / Exhaust
Emissions monitor(s) not ready at time of inspection. This does not necessarily mean there is an issue. Vehicle may simply need to complete a drive cycle.
(CAT (catalyst), Evap (evaporative) , O2S (oxgen sensor))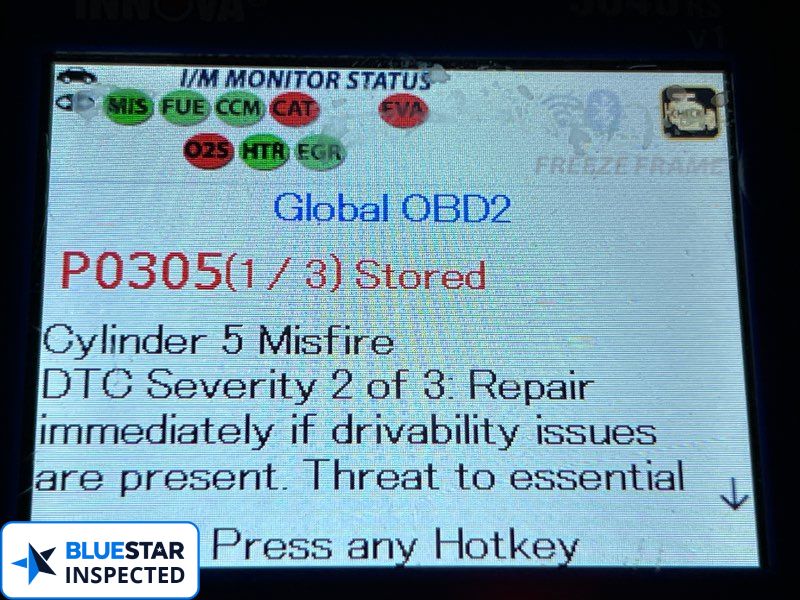 Check engine light is currently on with data trouble code(s) present in vehicle ECM.
(P0305)
HVAC

/ Cooling
Whee

ls / Tires / Brakes
Vehicle is all-wheel drive and the tread difference between rear and front tires is 3/32nds or more.
Igni

tion / Electrical
There is a rough running condition present at time of inspection and vehicle has surpassed manufacturer's recommended service life for spark plugs.
(Check engine light is on with a misfire code. )
Body

/ Frame / Exterior / Interior

Interior / Power Accessories
Flui

d Leaks / Level / Condition